DVD to iPod Video Converter Software
DVD to iPod Converter and iPod Video Converter is an impressive iPod ripping solution. It is able to convert DVD video and movies to iPhone, iPod Touch, iPod Classic, and iPod Nano. The process conversion is performed quickly and flawless.
iPod Video Converter + DVD to iPod Suite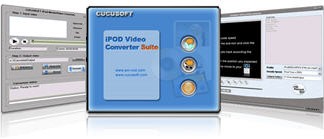 iPod Video Converter Suite is an all-in one iPod video solution, which comprises two applications - DVD to iPod Converter and iPod Video Converter. As compared to other programs its performance speed is just excellent, since it excludes the process of converting media files into AVI format.
DVD to iPod Converter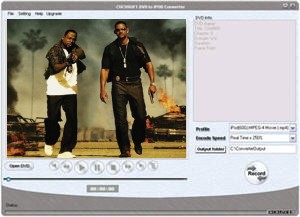 DVD to iPod Converter is a lightweight and easy in usage application that allows to convert DVD to iPod. It is designed specially iPod Video and Apple iPod Movie. The application converts all types of DVD to iPod Movie / iPod Video.
iPod Video Converter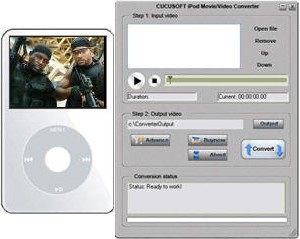 iPod Video Converter is a powerful converter. It is created for Apple iPod Movie and iPod Video. This utility allows to convert all popular video formats, such as DivX, XviD, MOV, AVI, MPEG, WMV, and others to iPod Movie format.
Ultimate DVD Converter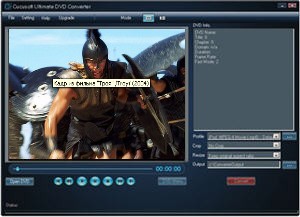 Ultimate DVD Converter is designed to convert your DVD's to any type of portable devices such as iPod, iPod touch, iPhone, iPod video nano, PSP, Zune, Pocket PC, MP3 players, and mobile phones. Besides, it supports any audio/video output format.
DVD to iPod Converter is a bit different than other applications. One of its definite advantages is its simple yet appealing interface and easiness in usage. The program performs automatic movie detection, you won't have to guess which files you should include.
iPod Video Converter supports the following audio and video formats: DivX, MPEG, MP3, MOV, AVI, RMVB, RM, VOB, WAV, WMA, CDA, OGG, APE, and WMV to iPod movie.
The software provides user-friendly interface. It is easy in usage, and works fast than any other application available on the market. Besides, it comes with a number of features which can transform you iPod into a portable movie player.
The brand new correction technology is able to provide the highest grade of conversion. You have to make just a click to convert your DVD to iPod compatible files.
These applications is a great solution for people who are always on the go and don't want to waste their precious time.